So where I have been the last couple of months, you might ask. Well, I was, of course, travelling; a few days, a few days there as you will see: France, UK, Luxembourg and Austria.

A friend of mine, Heather Carroll, and I had a joint art exhibition, held in wine cellars in Ahn on the Moselle. I exhibited some of my textured photos and she exhibited some of her woven wall hangings inspired by the spirit of the sea

We visited an exhibition by Marie-Noelle Fontan who incorporates leaves, seeds, seed heads and twigs into her woven wall hangings

In France nuits romanes were being celebrated in the Poitou Charente and the sunflowers were at their best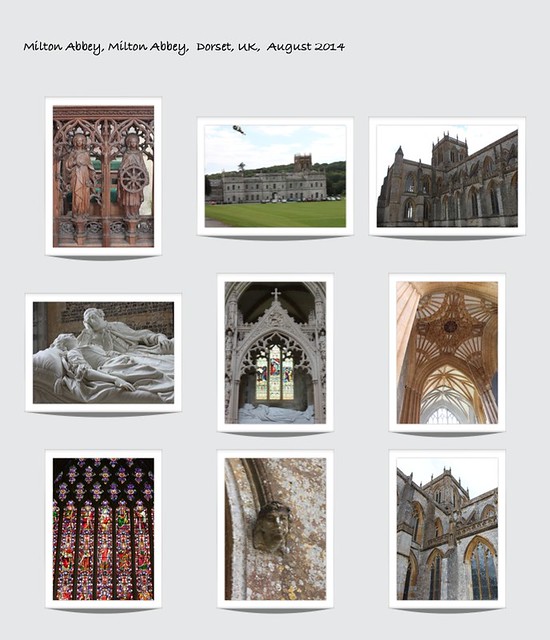 Dorset is home to the beautiful Milton Abbey with its fabulous stained glass window, featuring a tree of Jesse, by Pugin

Walking with my sister and her husband, over from the US, around Clifton Wood, Bristol, brought back memories of our childhood spent there

We drove down to Salisbury to visit Mompesson House where the Victorian artist Barbara Thompson lived and painted. There was an exhibition of contemporary works there which included a dress covered in leaves and butterflies exquisitely executed by Jane Hall.

Salisbury cathedral rises above the beautiful cathedral close. The 'walking Madonna' is by Elizabeth Frink

a few glimpses of Bath and its abbey

Luxembourg held its annual street art/animation festival where street performers from far afield come for a weekend to entertain thousands of visitors

Last, but not least, we visited friends in Austria, starting in the wine lands of Wachau

followed by a train ride up to the Schafberspitze, from where you can see 7 lakes

Hangar 7, Salzburg, is home to the private collection of aeroplanes and racing cars belonging to the man who invented the Red Bull drink

Salzburg in the rain – what better argument did we need to seek cover in the Stiegl brewery after looking round the castle and then demolishing a huge slice of Sachertorte in the famous Cafe Sacher. The fence on both sides of the bridge across the river had been adorned with thousands of padlocks, like votive offerings they are signs of love in modern times.

Vienna's Schonbrunn Palace was still beautiful in the rain. Hungry sparrows, starved for food because of the previous 2 days non-stop rain, hardly gave us a chance to eat our apple strudel in the cafe. The Upper Belvedere gave me the chance to see Klimt's masterpiece "the kiss" in the flesh as it were. Unfortunately it was too wet to enjoy the gardens to the full although we did walk the length of them

Inner Vienna – the only dry day we had – and a chance to see the inner city from the comfort of a horse-drawn carriage. The architect Loos, whose building the "Loos Haus" (now the Raiffeisen Bank) caused scandal in its time because of its simple lines, described the Viennese as being "pathologically addicted to ornament". This was evident everywhere. Every facade had faces peeping from them and doors with colonnades on either side sported mythological creatures supporting them. Vienna was indeed a feast for the eyes for those with an interest in architecture.
As I write this the space available to me in my office diminishes daily as we pack up boxes and store them there in preparation for moving house. Breathing space is needed and a new adventure calls…..